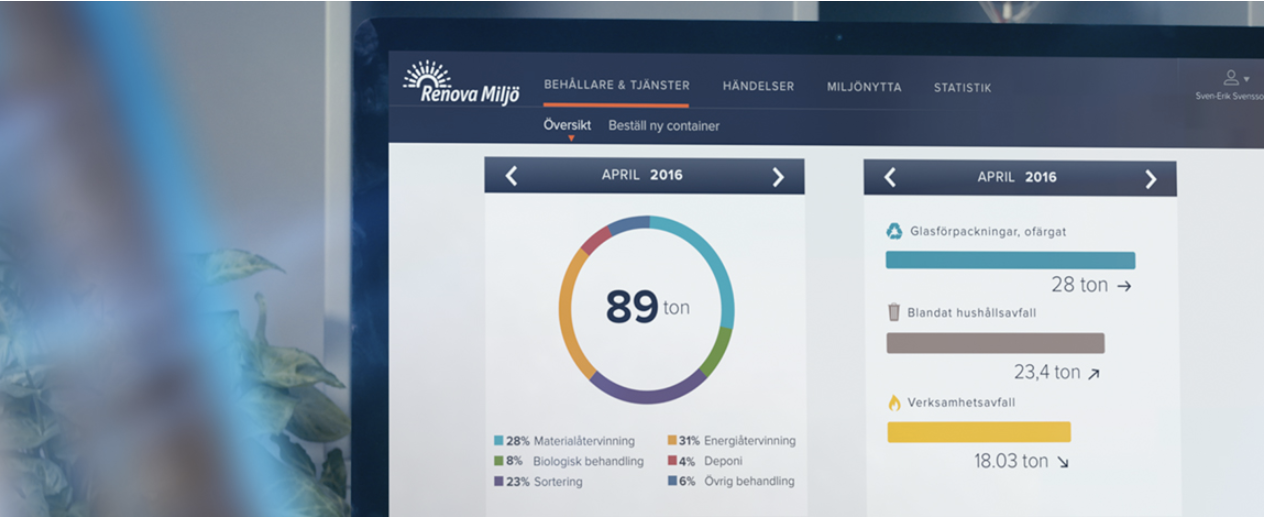 With an increased interest in sustainability work, Renova saw a need to make it easier for its customers to follow their recycling work in statistics through educational UX design.
With a focus on the customer and sustainability, this finalist in the Grand Award of Design developed a simple and stylish UX design that provides an easy-to-understand overview of a business's waste sorting and recycling.
Increased need for insights into sustainability
With customers from housing associations to large industries, Renova handles large amounts of data on what kind of waste companies dispose and how it is handled. As more and more companies become interested in the processes behind recycling, Renova saw the need to answer the questions that arise.
– A few years ago it was enough to get help with the disposal, but now there is a demand for what happens afterwards. We wanted to contribute that to help companies improve their sustainability work and environmental commitment, says Kajsa Lager, head of business area allocations.
Customer based system
Renova put together a team that was based on the customers' wishes together with the technical development partner InUse, who also conducted interviews with reference groups.
Emphasis was placed on a UX design that presents data in as easy-to-understand way, and at the same time, it should form the basis for decisions in clear and stylish graphs.
– In the system, you can see when you need emptying or new containers and which streams of material you produce the most of. This can be large industries with lots of containers.. Then it is even more important to be able to streamline the operational work and get follow-up that does not come in a difficult-to-read Excel document, explains Mikael Borgman, head of IT and projects.
"A few years ago it was enough to get help with the disposal, but now there is a demand for what happens afterwards."
Kajsa Lager, Head of Business Area Allocations
Good design makes an impact
The development process has also affected Renova as a company as they have created clearer communication both internally and with its customers. The system has also reduced the pressure on the company's customer service while also increasing efficiency.
– We can see how customers download statistical reports on an ongoing basis and how container emptying increases. Property owners download the collection schedules themselves and both we and the property owner see what deviations occur, which paves the way for a better customer dialogue, explains Mikael Borgman.
Finalist Grand Award of Design 2019: Renova
Producing company: Renova Miljö.
Design: inUse.
Motivation: Recycling is an essential part of developing sustainability work – Renova took this seriously by not only developing a well-designed digital portal for its customers' follow-up work, but by also creating motivation for customers to improve their operational activities from an environmental perspective.